City Innovation Talks
Open Event & Lab on digital innovation in our cities
July 21, 2020 at 15:00 – Available Online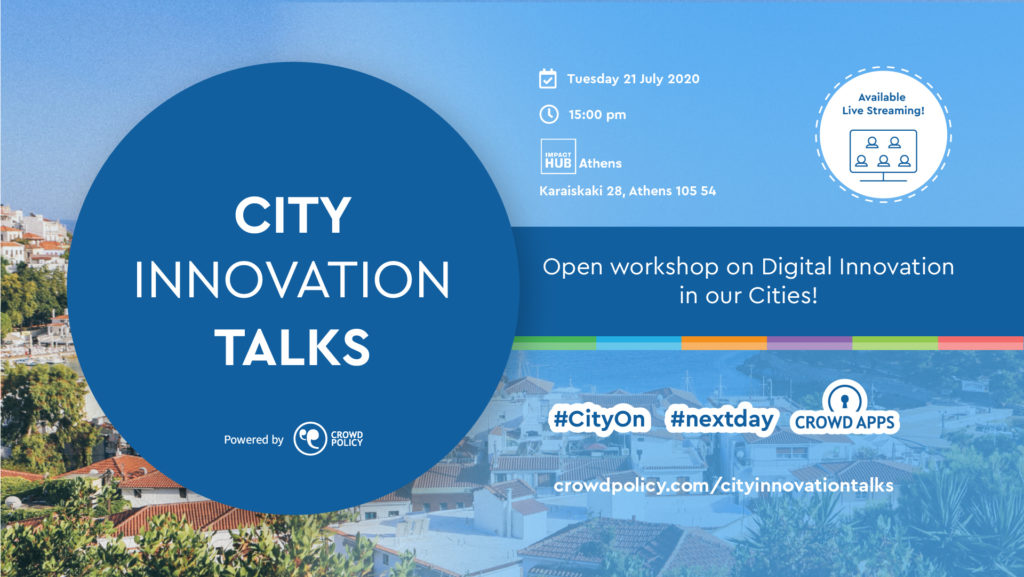 Δείτε τις παρουσιάσεις εδώ.
The City Innovation Talks will take place on July 21, 2020 at 15:00 at Impact Hub Athens in Monastiraki as well as remotely using teleconference tools.
The goal of City Innovation Talks is to highlight good practices of Municipalities of our country and encourage creative discussion on the use of digital tools and innovations aimed at the improvement of the quality of life in our cities, local development, environmental protection, engagement and sustainability.
The event will feature discussion on the Municipalities' efforts to tackle the pandemic through digital media and prepare for the next day, smart cities and the use of technological innovation and new trends to implement actions with local and national benefits. The event supports the active participation of the dynamic ecosystem of innovation and youth entrepreneurship.
City Innovation Talks can be attended by:
Every citizen interested in digital innovation, smart cities, and related technology trends!
Executives of Municipalities and local government organizations.
Startups, private sector organizations and executives, research community members.
Program and Thematic Areas
15:00 – 15:15: Welcome speech
15:15 – 15:30: Digital transformation and smart cities. The Greek digital innovation ecosystem in our cities! – Georgios Karamanolis, CTO/CIO, Co-founder, Crowdpolicy.
15:30 – 17:00: Smart cities, digital transformation and good practices: The plan for the next day.
Mayors and executives talk about their experience and the use of digital media as well as planning for the future!
17:00 – 18:00: Disruptive technologies and trends for smart cities and digital transactions.
Presentations by executives and startups:

Fintech for the promotion of digital services in our cities
Sustainable cities, urban design and startups at local level
Artificial intelligence, big data and decentralized blockchain technologies
Environment and energy, electromobility, opportunities and challenges for our cities
18:00 – 19:00: Open discussion – Conclusions
City Innovation Talks is held by the Greek innovation and technology company Crowdpolicy in the context of the implementation of actions to promote digital transformation, entrepreneurship and innovation in more than 40 Municipalities of our country.
The program is constantly updated. See the program in detail and register at crowdpolicy.com/cityinnovationtalks-en to receive the remote attendance link. The physical venue of the event will be used exclusively by the organizers.